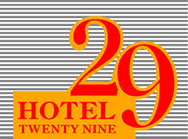 Yong Peng was established in 1950. It is located in the district of Batu Pahat in the state of Johor. The main attractions in Yong Peng are the food especially the fish ball and "Fu Zhou" biscuits. Its main economic activity is agriculture including farming and fishing.
If what you seek is a home away from home, located in the heart of town for your leisure or business excursion, then welcome to HOTEL29. Step in and experience our hospitality and commitment where everything we do is to make your stay here most enjoyable and memorable.
HOTEL29 features spacious & trendy rooms and unique suites rooms with air conditioning, private bathroom and color LED TV.
All the rooms are elegantly decorated in luxurious contemporary styles and is equipped with comprehensive modern facilities such as wireless broadband internet coverage. Guest has access to elevator, business centre and lobby.
We welcome you with warmest heart.
Twenty Nine Hotel (002324172-A) Tel/ Fax: 07-4688929, 07-4671434
Address: No. 1, Jalan Tenteram, 83700 Yong Peng, Johor Darul Takzim, Malaysia
Email: enquiry@yongpenghotel29.com.my
Hotel 29 © 2016. All Rights Reserved.